Our Paving Services
Driveway paving
New Paving is the building of new asphalt surfaces. First, excavation and grading of the area is done to establish the desired grade and drainage. Then a base of aggregate is placed and compacted. Finally, a specifically designed asphalt hot mix is applied to present a finished surface based on the customer's needs. Also under this category would be Removal and Replacement of existing asphalt. If the asphalt has deteriorated from a lack of maintenance, overuse, or simply living past its life expectancy. In this case, old asphalt pavement will need to be removed and replaced. If needed, this would be when more base stone or base hot mix could be added before applying a new layer of surface asphalt.
---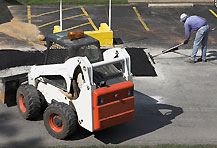 Driveway sealing
Seal Coat acts as a flexible barrier coating, increasing the life span of your investment.
Benefits of seal coat for pavement maintenance:
■Protect and extend the lifespan of your driveway or parking lot
■Prevents water from penetrating the surface which leads to cracking
■Protects against oxidization from the sun (paving materials become dry, brittle)
■Prevents erosion of asphalt
■Costs pennies a square foot compared to repairs
■Prevents oils and salt from breaking down the asphalt
■Aides water run off
■Limits pooling of water
■Slows down surface cracking
■Prevents slip and fall injuries
■Enhances the aesthetics and curb side appeal of property
Signs that your driveway or parking lot needs to be sealed:
■Discoloration of asphalt (fades from black to gray)
■Hairline cracking
■Uneven wear of past seal coat
■2-3 years since last seal
■Signs of over sealing
■Surface cracking that appears like peeling paint
■Water standing too long on driveway
---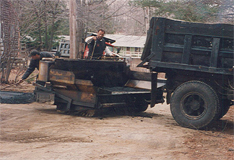 Resurfacing Services
We provide asphalt resurfacing services from major roadways to parking lots. From retail to school parking lots, condominiums or homeowner association streets, we do it all.
Sorensen Paving can handle any size resurfacing project with our skilled personnel and modern fleet of equipment. We would like to show you our different methods of resurfacing to accommodate any type of resurfacing job you may have.
---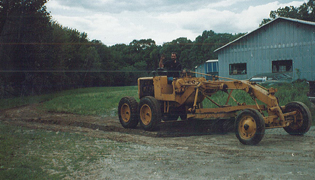 Excavating Services
Sorensen's paving is an experienced excavation contractor for residential and Small commercial jobs in MA. We excavated and prepare driveways, parking lots, walkways and many custom projects.
Site Preparation Contractor in MA
Sorensen's provides excavation for residential and commercial site preparation.
Sorensen's Paving prepares sites and excavation services for not only driveways but basements, built in pool installations, parking lots, foundations, and more.
Sorensen's excavating contractors can haul in sand, gravel, dirt and fill for grading and landscape purposes. Sorensen's provides excavating and site preparation for new lawn installations, stump removal and adding topsoil for wetlands areas.
---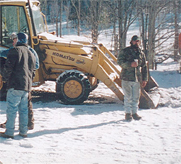 Snow Removal Services
Sorensen Paving's has been offering snow plowing and removal for commercial and residential customers for over 30 years. To keep your parking lot or driveway safe for travel and walking we also offer sand and salt applications to parking lots and driveways.
If you need large amounts of snow removed we have the equipment to haul it away. We will be there to plow your lot for any snow storm occurrence or on a contracted basis.
---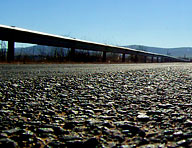 Crack Sealing Services
Are there cracks in your asphalt road or parking lot?
Sorensen Paving, serving the Greater Worcester area is the leading Worcester asphalt paving company. Asphalt Crack sealing places materials into non-working or low movement cracks to reduce the infiltration of materials and water into the cracks. Crack sealing can extend the life of your pavement if done properly. By sealing cracks in your pavement your preventing sand and rocks from making their way to the surface by avoiding water based erosion. Asphalt crack sealing will keep new cracks from forming and minimize crack growth. It is important to treat the problem areas in your asphalt while they are small. Crack sealing delays expensive asphalt resurfacing and pays for itself.
You can extend the life of your asphalt parking lot or pavement and in many situations with the right maintenance you can double the surface life expectancy by sealing asphalt cracks promply. Sorensen Paving uses the highest grade materials available, from driveways to tennis courts, shopping malls to running tracks. We have sealer mixed for all types pavement requirements. Our professional and skilled crews use only the finest state of the art materials and repair equipment to help insure your total satisfaction.
---
Maintenance Tip
Here are some tips to ensure long term satisfaction with your new driveway or parking lot:
•A good rule of thumb is to keep all vehicles off new asphalt for 7 days to ensure adequate time for the asphalt to cure, or harden. Please note that hot summer temperatures may extend this hardening time.

•You may WALK on the driveway after 24 hours, but please refrain from using high heels, roller blades, lawn tractors, or bicycles on the asphalt surface.

•Asphalt is extremely susceptible to chemicals during the hardening process. Gasoline, antifreeze, oil, diesel fuel, or household chemicals can cause discoloration, cracking or disintegration. Please take care that none of these, or other corrosive substances, come into contact with the asphalt. After the driveway hardens these chemicals will still have damaging effects on your driveway, but at a slower rate.

•We recommend that the driveway be seal coated every 2-3 years, or as desired, after installation. To reduce damage to the edges of the asphalt be sure to back fill the edges with dirt and/or grass. Do not drive on the edges of the driveway.

•Delivery drivers, repair servicemen, or visitors may not know your driveway is new. Overweight vehicles or drivers turning their wheels in place will blemish the surface of the asphalt. Plow trucks with chains will damage the surface, even after hardening off.

•Motorcycle kickstands, auto jack stands, etc. will leave impressions in new asphalt and during prolonged periods of hot weather.